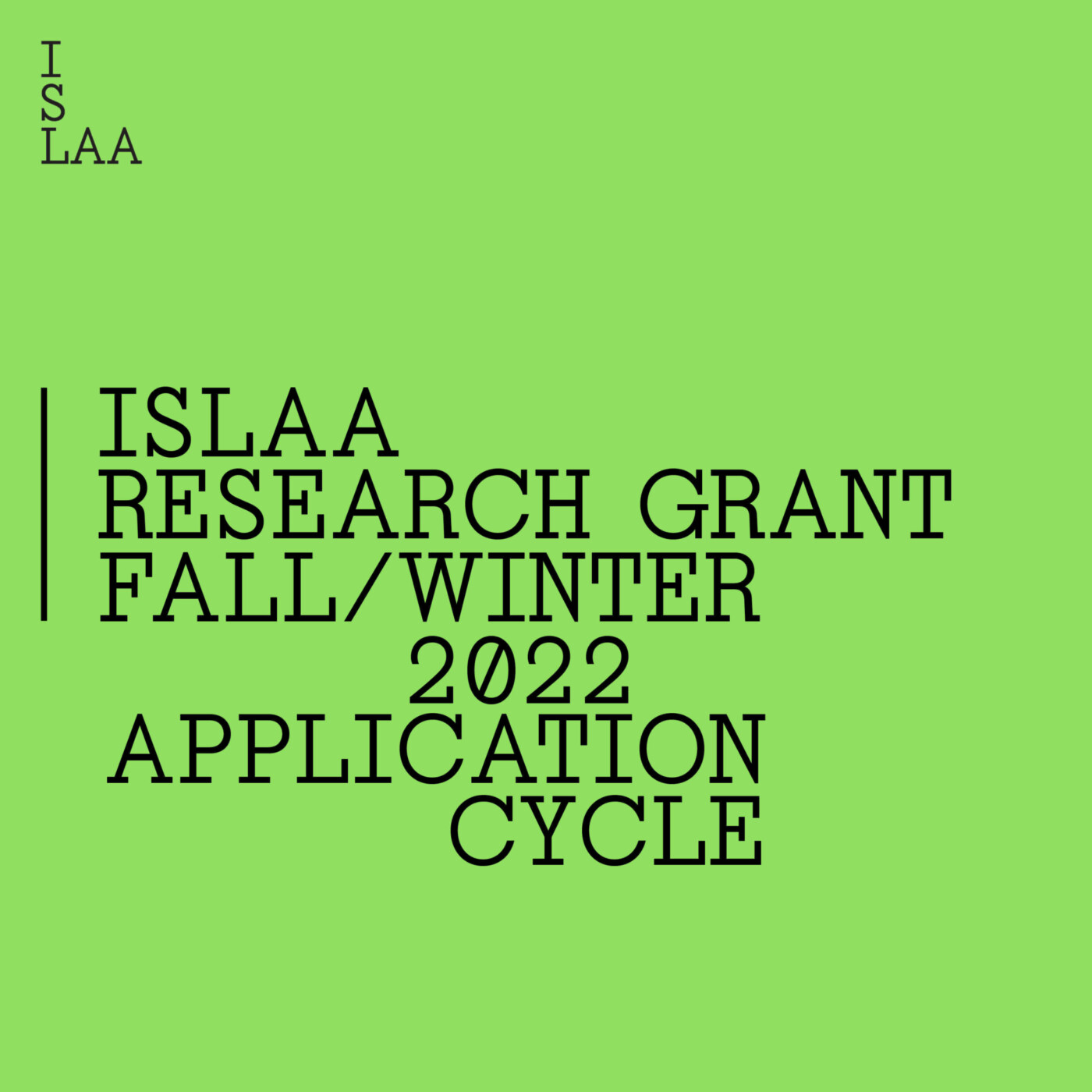 Call for proposals: ISLAA Research Grant Fall 2022
Submission period: November 17–January 2, 2023
Submission deadline: Extended to January 2, 2023 at 11:59 PM, EST
The Institute for Studies on Latin American Art (ISLAA) announces the call for proposals for the ISLAA Research Grant Fall 2022. The ISLAA Research Grant is an opportunity for MA and PhD students enrolled in graduate university programs in the US and abroad to conduct novel investigations into themes, geographies, and chronologies of modern and contemporary art and visual culture from Latin America, the Caribbean, and the diaspora.
The ISLAA Research Grant aims to expand access to research funding by supporting the incredible talent of emerging scholars. Research may be conducted anywhere in the world and must be directed toward MA or PhD dissertations, peer-reviewed journal articles, and conference presentations. Research activities may include consulting resources at libraries, museums, and archives; interviewing artists, curators, and scholars; and arranging studio visits. The Research Grant will award three grantees up to US$2,500. Grantees will be chosen by a selection committee of scholars and arts professionals.
The application materials required include a research proposal, calendar, itinerary, and budget. Find out more about grant conditions and submission requirements here.

If you have any questions about the ISLAA Research Grant, please email Blanca Serrano Ortiz de Solórzano, ISLAA project director: [email protected]

While we originally planned to grant three awards, submissions were so impressive this cycle we decided to award a fourth grant. The recipients of the Fall 2022 ISLAA Research Grant are:
Angela Brown, PhD candidate at Princeton University, dissertation title "Texture of the Weave: Techniques for Ch'ixi Modernity in the Americas"
Lynne Lee, PhD candidate at Rice University, dissertation title "Black Art in White Narratives: Early Afro-Brazilian Art History at the Crossroads of Science and Aesthetics"
Jasmine Magana, PhD candidate at Duke University, dissertation title "Performing Public Space: Bogotá, Mobile Site-Specificity, and Urban Development"
Emma Oslé, PhD candidate at Rutgers University, dissertation title "Maternal Visions in Latinx Art"

Watch where the Fall 2022 grantees will develop their research!